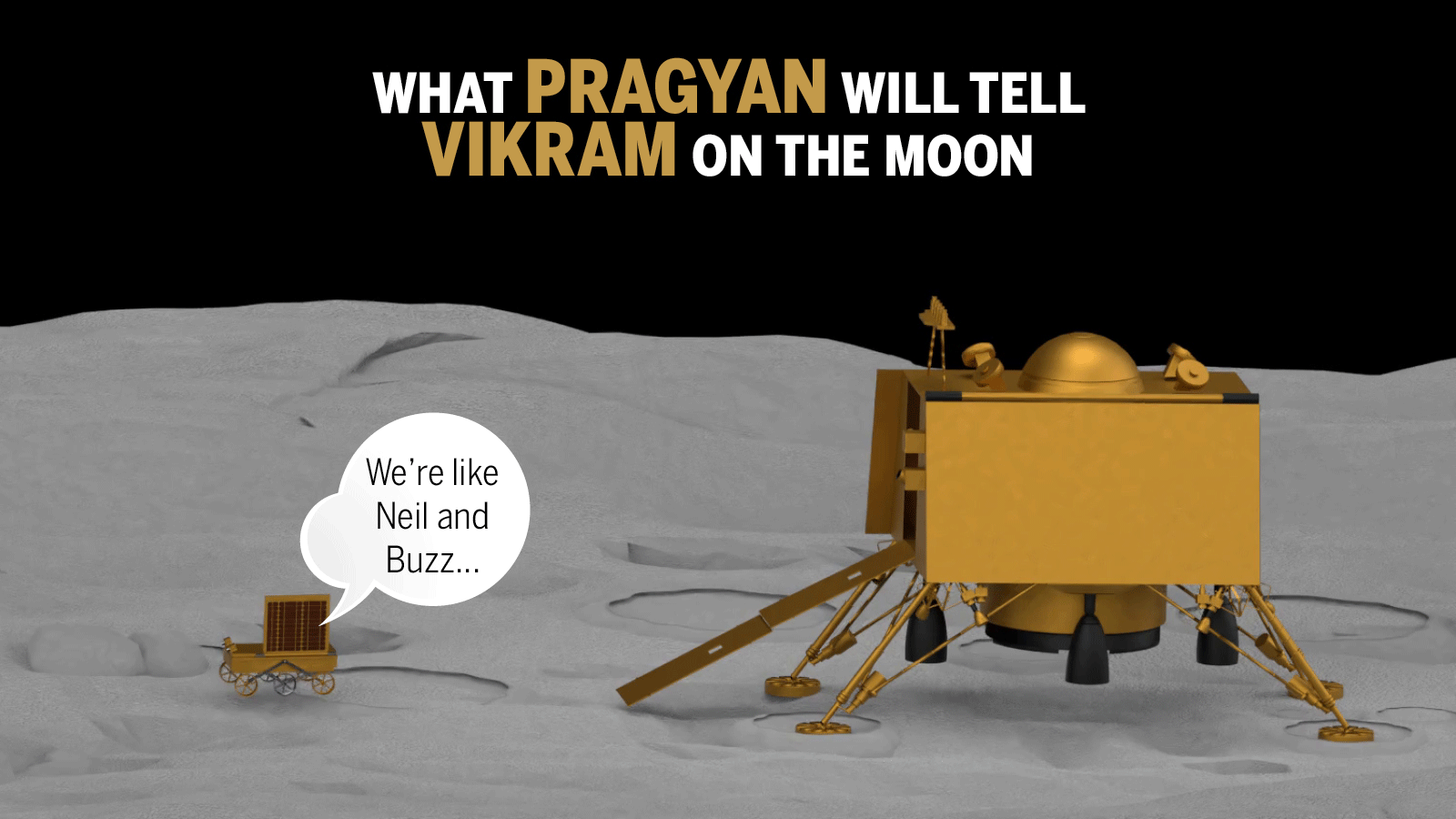 I was getting out of the office and I was stuck in the traffic jam just outside our office at 9.30PM. While I was coming down through the lift I saw in the small screen that PM has just landed in Bangalore. I could relate that this holding up is for his convoys to pass through our stretch. My friend also conveyed the same while we spoke for a couple of minutes. It passed my mind that I will sit late night and witness the history-making achievement of our mission to land the rover in moon around 1.30AM. I had dinner and watched some snippets of commentary as most of the TV channels were doing the count down for this event.
I was keen to witness the Moon landing mission and I could see the cheers as soon as the rover finished rough breaking phase. The despair started while the vehicle entered the fine braking phase and it started wiggling away from the predestined path. There was a pall of gloom on everyone's face.  The ground control scientist declared that telemetry data is cut off. It was a very difficult moment for all the scientists as I saw some of the senior and retired luminaries of the space community came down to meet the scientists to understand what is happening?
I was reflecting on the early '80s. My father was working in VSSC and every time a rocket launch is successful from Sriharikota he would come with a sticker and he used to stick on our glass showcase. In fact, if you go to any of his friend's house we will see the same. But at the same time when there is a failure and yes we had many failures for test-firing the launch vehicle at that point of time, there used to a sense of gloom in the house. The scientists undoubtedly put their heart and soul into these missions. The image of a rocket falling apart and going down into the Bay of Bengal was very disturbing and growing up in my native place Trivandrum (where a lot of work on the launch vehicle happens) it was enlightening to see how far we had come.
Today I see that failure and the achievements thereafter as a matter of pride. As somebody in the movie "Misson Mangal" mentioned, "Failures are all experiments". I used to wonder what would be the driving ethos for these scientists who had to go through the stages of these failures in order to perfect the launches and mission. A big salute.
I slept at 3.30 AM yesterday night ( today morning) and got up by 7.45AM and I was telling my wife about those moving images. I wanted to know the latest and I put on the TV. Just 2.1km away from the surface of the moon, the rover Vikram lost touch with the ground station, was the message.  Our  PM asked a set of children, "What would you go and tell your parents back home". All the children came up with such profound and positive comments that I  was enlightened at 2.30AM.
Next morning, the way our PM encouraged the disheartened scientists through a 25 mins speech on the frontiers to capture and the places to go was very apt. He showered praise on the scientific community to look forward to capture the space with more pace. I am sure our scientists will come up with the analysis and will figure out what went wrong. In my last 5 years, I had the opportunity to meet a lot of space scientists and I was always amazed by their zeal and commitment to make things happen. Our scientists have adopted frugal engineering and that is how we have made a very cost-effective mission. A line from movie Mission Mangal was poignant " Don't think small, think small things"
Last Sunday we had gone to see "Mission Mangal" and I liked the movie for the messages and spirit of getting back up after failures. My younger daughter was at the edge of her seat towards the last 15 minutes of the movie as the ground control staff tried to make sense of the satellite's orbit connection which they lost tracking the flight. It was nice to see that particular scene when the satellite orbit is communicated back and Akhshat says to tell the world " Copy that ". It was a copy cat scene when a similar scenario was playing out in front of us. Unfortunately, there is a difference between reel life and real life. In reel life, there are cuts, retakes, and edits. But in real life, there are only odds, chances and results.
I am sure that we will bounce back the way we have done in the past. Our determination to touch the moon has become even stronger. We were just 2.1kms away.  This effort was worth it and so was the journey. We will capture the rest of the space with more pace. We saw moist eyes, we felt the encouragement and we got solidarity from everyone as we set out to capture new frontiers and new places to go.  To me, seeing the Mangal movie's final scenes and then after a week seeing the real launch was a cathartic experience. Unlike the movie "Mission Mangal" where I knew it was a happy ending,  the next couple of minutes was a nail-biting moment. How much I wished we could predict the failure in an unchartered terrain? As there are only 37% hit rates when it comes to soft landing I am sure as a nation we will take this journey as a leap of faith and look forward to our scientists to capture that final last mile. We do not know at this point where  Vikram is?
Dr. Vikram Sarabhai came out with a moon shot idea when he started the adventure into space. Today our  Vikram took us closer to the moon and fell short by 2.1kms. Dr. Vikram Sarabhai figured out the unchartered paths to space and gave a morale boost to our space science. Our scientists will figure out what happened to our Vikram. Dr. Vikram left a legacy for the scientists, our scientist will establish Vikram's legitimacy. Let us get ready to take a shot at the moon once again and am sure this time we will create history.
Reel life voyage promised (Mission Mangal) a happy ending, whereas real-life voyage (Vikram & Pragyaan) ended with a promise. A promise that Our space scientists have already figured out that the way they have addressed escape velocity,  finished the rough breaking phase, we will get ready to "conquer the fine breaking phase" for a soft landing on the moon soon. We navigated the "rough" phase and we will navigate the "fine" phase.  After all, it was our mission last time which showed the world presence of water and next time we will "go the (2.1Kms) fine distance" because our best "moon" shot is yet to come.
With moist eyes, I sign off with this credo which every Indian is proud of at this point of time as I saw in ISRO HQ this line " Sky is no longer the limit for our pride".